"We do not inherit the Earth from our ancestors, we only borrow it from our children"
This anonymous quote encompasses the spirit and philosophy of Arapawa Blue Pearls.
So, why should our sustainability practices make any difference for you? Our answer is simple: after buying a Paua jewellery piece, experiencing our pearl tours, or staying at our accommodation with us, you should feel that you have invested in our planet's long-term future, rather than having taken advantage of it.
Through sharing our journey with you, we hope you gain insight not only into our passion for the Paua but also our commitment to sustainable fishing practices and the environment in New Zealand.
We invite you to join us as guardians, protecting the oceans and land of this beautiful world we call home. Today's most valuable resource is time and that is why we want to thank you for taking the time to understand what, how and why we do what we do here at Arapawa Blue Pearls.
WE SUPPORT AND COLLABORATE TO CREATE POSITIVE CHANGE IN OUR PLANET.
WE HONOUR THE TIAKI PROMISE
NAU MAI, HAERE MAI KI AOTEAROA
Welcome to New Zealand
Welcome to Arapawa Blue Pearls.
Tiaki, a Māori word, means to care for people, place and culture and we at Arapawa Blue Pearls have made a commitment to New Zealand, to act as a guardian, protecting and preserving our home. Tiaki – Care for New Zealand was created through a collective desire to share a connection to the natural world, inspiring and helping visitors to travel safely and conscientiously.
New Zealand is precious, and everyone who lives, and travels here has a responsibility to look after it. The Tiaki Promise is a commitment to care for New Zealand, for now and for future generations.

By following the Tiaki Promise, we are making a commitment to New Zealand. To act as a guardian, protecting and preserving our home:
- To respect the land, seas, lakes, rivers, and mountains.
- To look after the fragile ecosystem.
- To protect and preserve the native flora and fauna.
New Zealand is a taonga (treasure) and many communities work every day to keep it pristine and beautiful. The Tiaki kaupapa invites you to see the world through this lens. To feel a closer connection with the people and places around them. To commit to a promise to care for New Zealand.
 Our passion for the ocean, conservation, and the Abalone Paua has led us to develop sustainability and replenishment initiatives to ensure the wild Paua are there to be harvested by the generations to come. This brings to life our commitment to Tiaki.
We at Arapawa Blue Pearls invite you to join us in the Tiaki promise and to take care of New Zealand for the generations to come.
About Te Tohu The Symbol
The Tiaki tohu (symbol) represents four atua (Māori spiritual beings) who represent four key elements that make this place, New Zealand, so special.
OUR ENVIRONMENTAL COMMITMENT 
Sustainability is at the heart of our work at Arapawa Blue Pearls, and we understand that our purpose is bigger than ourselves. To make a difference in developing a future for the Abalone Paua we have seen beyond our own business, putting first the delicate ecosystem we rely on.
Pearls are the only natural gem that is renewable. Once a gemstone or mineral has been removed from the earth, it will not return. A cultured pearl can be grown in an economically viable period of time.
We are proud to offer Abalone pearls that are inherently sustainable, and we are committed to making our fishery a long-term sustainable practice for future generations. 
As a small family business, one of our key principles is to ensure our work enhances the natural environment and helps all indigenous species flourish. 
Our respect for nature and an understanding of our role as custodian of the island on which we live and operate inspires our commitment to improving all aspects of our business.  Three foundations support our sustainability efforts – Education, Authenticity and Regenerative Economy.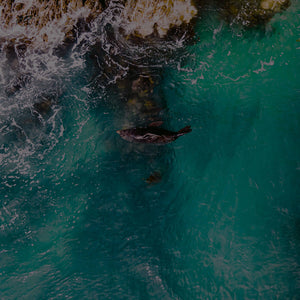 Education
We invite you to join us and learn how to be a guardian of our planet protecting the four atua (Māori spiritual beings): our sky, our forest, our earth mother and our ocean. From the pristine waters in New Zealand to across the world, we want you to know, to be in love with our story of Paua passion and share it.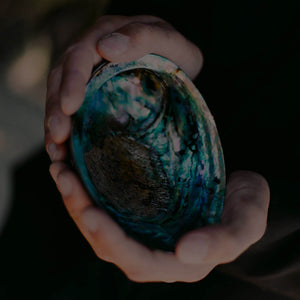 Authenticity
Abalone Paua are precious to us, to New Zealand and to the planet. We are learning everyday how we can do a better job for the future of this species. Our sustainable management of the Abalone means we use every part of the Abalone we can: meat, shell and pearls. Each pearl carries a Certificate of Authenticity, so you know that you are buying authentic, free of treatment or enhancement, and sustainable cultured pearls.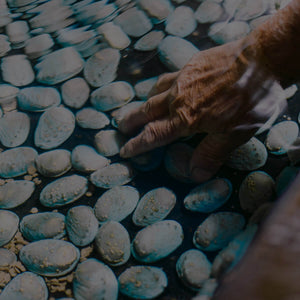 Regenerative Economy
We support a regenerative economy as one that seeks to create an economy in which the planetary ecosystem and its resources are respected, not depleted beyond the ability to sustain planetary health, and in which the human experience is one that allows humans to achieve their highest potential through constant development and growth.

As we respect the cycles of our ecosystem and living creatures, we acknowledge the power of being part of a circular business in which we bring innovation to maximize the use of the resources we access. For us, a circular economy that integrates tourism, jewellery, and pearl tours is a sustainable, productive economic model that is financially, environmentally, and socially sustainable. It operates in a continually evolving cycle. But also, it's about improving the land, water, and air, as well as the people we interact with.
RESEEDING PROJECT
Regeneration of Abalone Paua in New Zealand: Arapawa Blue Pearls Reseeding Project      
The Paua are precious, and we have a responsibility to ensure they thrive as a species. Like all commercial Paua operations we work under a quota system so for us it's important that sustainability is at the heart of everything we do.
Our passion for the ocean, conservation, and the Abalone Paua has led us to work with leading research institutes and scientists in New Zealand to develop sustainability and replenishment initiatives ensuring the wild Paua are there to be harvested by the generations to come.
Our reseeding process starts with gathering wild adult stock from the ocean beds for spawning We take enormous care when handling the Abalone Paua as they are very fragile. Unlike oysters which have two hinged shells, the Paua are single-shelled, delicate and easily damaged.
With exquisite care, we inspect the adult Paua, aged five years and above if they are suitable for cultivating pearls. We introduce a 'mould' that is inserted between the flesh and the shell. This 'mould' is a small, half-spherical piece that the Paua shell grows over replicating the shape. Because the Paua are extremely fragile (and can bleed to death if damaged) we take extreme care to ensure they are not damaged during the insertion process. After the insertion process, the Paua are placed in recovery tanks and later housed permanently in tanks for four years as the pearl develops.
Our commitment to sustainability means we reseed juvenile Paua into the wild, ensuring they will live on for generations to come. Reseeding takes place through induced spawning of the male and female. Within twenty-four hours the fertilised eggs from the male and female parents hatch and we have hundreds of thousands of baby Paua!
After nine or ten days the baby Paua are moved into our specially developed tanks, which provide them with fresh sea water, cool temperatures, and ocean-like conditions. As they grow they are gently separated into less populated tanks to prevent overcrowding and stress.
In the wild, the survival rate from egg to adult Paua is one in 20 million, at Arapawa Blue Pearls the mortality rate is greatly reduced . The survival rate is so good because we can control so many factors relating to the environment the Paua are in – the water quality, feeding and obviously there are no predators in our tanks.
Our innovative system of water dumping buckets above the tanks helps recreate the ocean-like conditions and allows oxygenated water to be pushed past the gills of the Paua, while at the same time keeping food moving and cleaning the tanks. For the Paua, it's as if they're living in the constant currents of the Cook Strait!
We look after the baby Paua for approximately eight months until they are 10-15mm in length. And either divided into smaller numbers in other tanks or carefully reseeded into the wild. Every three days the baby Paua are fed a mixture of fishmeal pellets and finely chopped up Macrocystis seaweed – feeding time is amazing, the baby Paua can smell the seaweed and become very animated.
Arapawa Blue Pearls are the only Paua farm left on land in New Zealand that undertakes this unique, intricate and time-intensive reseeding process, looking after the baby Paua twenty-four hours a day, 365 days of the year, from when they are hatched to when they are returned to the ocean and beyond.
As a result of our focus on sustainability and the replenishment commitment, Paua beds are currently the best they have been since we started farming 25 years ago. A daily catch then would be around 150kg per diver, today it is more like 350kg per day - the Paua are also much larger.
Much of our focus is also on reseeding the region's coastline – particularly after the 2016 Kaikoura earthquake which elevated the seabed by up to six metres. This exposed and destroyed millions of Paua, devastating it's local population. So it's a joy to see how the Paua have blossomed and returned to the Kaikoura coastline.
BE PART OF OUR JOURNEY
When you buy from brands with sustainable commitments, you're supporting fairer working conditions and environmentally conscious production.
We would love to inspire you on reflection, transformation, and action. We encourage you to reflect on the ways you consume, rather than just conforming to the various trends and habits of society. 
Take a minute to reflect on what you've learned so far from our company. Do you ever think about the people who make your jewellery? Have you ever thought about the process your jewellery goes through before they get to you and how this affects the planet?
Learning to stop, think, and consider consuming ethically is a conscious commitment to act for the wellbeing and benefit of others, and to respect and prioritise the dignity of life in our planet. 
It isn't enough just looking for quality in the products or services we buy, we must ensure that there is quality in the process, lives of the people who make them and if they are making a better NZ via the process.
Once we understand our role as consumers in the tourism, fashion, and jewellery industries supply chain, we are compelled to think about how our purchases affect other peoples' lives and the future of our country. 
Arapawa Blue Pearls are a small family owned, Kiwi run business. We are determined to make our fishery long-term and sustainable for future generations. We believe companies and consumers can make a difference in every industry, but that can only happen when we work together to invest in our planet.
We want to take every opportunity we can to share the tale of the unique Abalone Paua pearls we grow and our commitment to kaitiakitanga or guardianship in our local community. 
We invite you to be part of our community: visit our farm, join our pearl tours, treasure an Abalone pearl, stay with us and experience the energy of our beautiful and unique home.